Indians decry move to open up retail to foreign investment
Published: 02 Jul 2012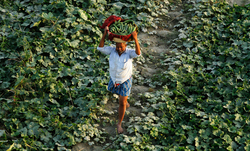 "We welcome big companies if they give good prices for our vegetables. But I will never enter into contract farming as I fear in the end the company might take away my land and I do not trust the foreign companies in particular," said Abdul Ahmed Gazi, a farmer in Hasnabad, India.
Xinhua | 2012-7-2
Indians decry move to open up retail to foreign investment
By Agencies
Many in India's eastern state of West Bengal worry the central government's decision to allow foreign direct investment (FDI) in retail trade would incur loss of jobs even farmers' land.
Subid Ali Gazi, a farmer in Hasnabad, 90 km from the state capital of Kolkata, bordering Bangladesh, said, "I can foresee the situation 10 years from now if FDI in retail trade is allowed. Farmers who own medium-sized land holdings like me will become agricultural workers for multi-national companies (MNCs) and lose their lands."
The 64-year-old farmer agreed that in the beginning the farmers would benefit as these foreign retailers would offer very good prices for vegetables and food grains which farmers are now being forced to sell at low prices and suffer losses.
"In the long run these MNCs will force farmers to start organic farming, buy fertilizers from them and then as a first step offer contract farming. The next step will be to take their land on long-term lease and employ their own agriculture laborers. Uneducated farmers will think they have become rich overnight and need not plough their fields," explained Gazi.
Gazi grows mustard, coriander, sesame and paddy, which fetches him a good income as all his produce is bought directly by retailers from Kolkata.
Reacting to the campaign by the media favoring FDI in retail trade with the logic that corporate houses from abroad will offer better and high prices, the father of three grown up sons said, " Many of us sell directly to wholesalers in cities. Indigenous contract farming exists for decades in many parts of the country. This agricultural system employing millions of people has been there for generations. FDI will smash this system and like the East India Company of the former British rulers which entered through trade these MNCs will control our economy and ultimately our politics."
West Bengal chief minister and All India Trinamool Congress ( AITMC) leader Mamata Banerjee approves apprehension of farmers like Gazi.
The AITMC is the largest partner of the Congress party-led ruling United People's Alliance (UPA) but ground reality has forced Banerjee to strongly oppose the central government's decision to allow FDI in retail trade.
"My top priority is to safeguard the interest of the farmers and retail shops and I will not support the UPA government on this issue unless the farmers have sufficient resources and the retailers find themselves secured," said Banerjee.
Banerjee quickly realized that the large support base that helped her party oust the Communists from power after 34-year rule in the state will be regained by the Communist Party of India ( Marxist)-led Left Front if she supported the UPA government on this issue.
Even after her meeting with US Secretary of State Hillary Rodham Clinton on May 8 during which the latter tried to convince her not to oppose the central government's move to pass the FDI bill in the Indian parliament, Banerjee stuck to her position. This time she cited anti-American sentiment among Indian Muslims.
Clinton had her own agenda to boost the sagging American economy and get multi-brand retailers open shops in a populated nation like India but Banerjee too has her own political agenda and cannot afford to antagonize Muslims who comprise 30 percent of the state's voters.
CPI(M) central committee member and former lawmaker Mohammad Salim admitted that initially procurement prices would go up and farmers might benefit and the declining agrarian economy might be boosted but he warned: "Through contract farming they will defraud farmers. They will decide the brand and prices from seeds to fertilizers. Middlemen in agri-trade might be eliminated but the MNCs will reap the profit of the middlemen and the present exploitation of poor farmers will be more organized in a much larger proportion."
"There is no doubt that the present public distribution system is weak and faulty but the central government should strengthen it instead of trying to privatize it and hand it on a platter to foreign corporate giants. Some jobs will be created on the shop floors for urban youth but much more than 10 million people will be displaced as the chain in forward and backward linkages in the agri-economy will be snapped," he said.
West Bengal food and civil supplies minister Jyotipriyo Mullick seems to agree with Salim though they are bitter political rivals.
Mullick said, "Being in touch with the masses, farmers and vegetable growers I know the situation in the villages. Now being a minister I keep visiting backward areas like ultra-Left Naxalites affected Jangalmahal in the state. FDI in retail trade will seriously affect our agrarian economy leading to unemployment in rural areas and in fact give opportunity to the Naxalites to strengthen their bases!
"If MNCs enter retail trade even our public distribution system will be affected and that is why keeping in mind the interests of not only farmers but also the middle class and the poor, our leader 'Didi" is opposed to it," explained Mullick.
Salim too felt that what was applicable in the West can never be implemented in India, saying: "Owning small grocery shops in urban as well as rural areas is the last resort for unemployed educated youths in our country. Many also work in family-run grocery shops. Their income might be less but they survive. All these people will be thrown out of work."
But the issue has created sufficient confusion among small farmers and vegetable growers as they are reeling under huge losses.
Being uneducated, farmers in Hasnabad want corporates to directly buy their produce as they will get a better price and reap more profit instead of incurring losses each year.
But they are opposed to contract farming or leasing out their lands to MNCs.
Said Zulfikar Ali, who grows vegetables, said: "We do not get good prices from the agents, who make huge profit as middlemen, but we will be happy if large companies offer us better prices. But we are not ready for contract farming or leasing our lands. It will be like the days of British rule when our forefathers were forced to cultivate and refusal led to torture. We do not want that situation to return. We want to remain content with small margin of profit rather than earn more at the cost of our land."
"I have a medium-sized land. I grow tomato, cabbage, brinjal and chilli. I have incurred a huge loss this year as chilli and brinjal did not fetch good prices. We welcome big companies if they give good prices for our vegetables. But I will never enter into contract farming as I fear in the end the company might take away my land and I do not trust the foreign companies in particular."said another farmer Abdul Ahmed Gazi.