Land acquired over past decade could have produced food for a billion people
Published: 04 Oct 2012
The Guardian | 4 October 2012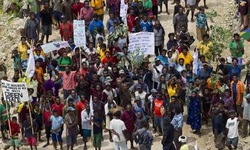 Last year, customary landowners from Pomio villages, in East New Britain province, protested against the biggest land grab in Papua New Guinea's history. Photograph: Paul Hilton/Greenpeace
John Vidal, environment editor
International land investors and biofuel producers have taken over land around the world that could feed nearly 1 billion people.
Analysis by Oxfam of several thousand land deals completed in the last decade shows that an area eight times the size of the UK has been left idle by speculators or is being used largely to grow biofuels for US or European vehicles.
In a report, published on Thursday, Oxfam says the global land rush is out of control and urges the World Bank to freeze its investments in large-scale land acquisitions to send a strong signal to global investors to stop "land grabs".
"More than 60% of investments in agricultural land by foreign investors between 2000 and 2010 were in developing countries with serious hunger problems. But two-thirds of those investors plan to export everything they produce on the land. Nearly 60% of the deals have been to grow crops that can be used for biofuels," says the report.
Very few, if any, of these land investments benefit local people or help to fight hunger, says Oxfam. "Instead, the land is either being left idle, as speculators wait for its value to increase … or it is predominantly used to grow crops for export, often for use as biofuels."
The bank has tripled its support for land projects to $6bn-$8bn (£3.7bn-£5bn) a year in the last decade, but no data is available on how much goes to acquisitions, or any links between its lending and conflict.
Since 2008, says Oxfam, 21 formal complaints have been brought by communities affected by World Bank investments, in which they claim that these have violated their land rights.
Oxfam's chief executive, Barbara Stocking, said: "The rush for land is out of control and some of the world's poorest people are suffering hunger, violence and greater poverty as a result. The World Bank is in a unique position to help stop land grabs becoming one of the biggest scandals of the century."
She added: "Investment should be good news for developing countries – not lead to greater poverty, hunger and hardship."
According to the International Land Coalition, 106m hectares (261m acres) of land in developing countries were acquired by foreign investors between 2000 and 2010, sometimes with disastrous results.
Nearly 30% of Liberia has been handed out in large-scale concessions in the past five years, and up to 63% of all arable land in Cambodia has been passed over to private companies.
Oxfam dismisses the claim made by the World Bank and others that lots of available land is unused and waiting for development. "It is simply a myth. Most agricultural land deals target quality farmland, particularly land that is irrigated and offers good access to markets.
"It is clear that much of this land was already being used for small-scale farming, pastoralism and other types of natural resource use."
A 2010 study by the Independent Evaluation Group (IEG) – the World Bank's official monitoring and evaluation body – stated that about 30% of bank projects involved involuntary resettlement. The IEG estimated that at any one time, more than 1 million people are affected by involuntary resettlement in active World Bank-financed projects.
Oxfam urged the UK government, one of the bank's largest shareholders, to use its influence to persuade it to implement the freeze. "It can also play a crucial role as president of the G8 next year by putting food and hunger at the heart of the agenda, and addressing land grabs as part of this. Critically, it can also press the EU to reverse biofuels targets – a key driver of land grabs."
Stocking said: "The UK should also show leadership in reversing flawed biofuels targets, which are a main driver for land and are diverting food into fuel."
In a statement to the Guardian, the International Finance Corporation, the World Bank's private lending arm, said: "IFC does not finance land acquisitions for speculative purposes. We invest in productive agricultural and forestry enterprises that can be land intensive to help provide the food and fibre the world needs. IFC has roughly a $4.85bn portfolio of agri-related investments. Of that, roughly $600m has a land component. Total land holding related to those investments total 0.7m hectares.
"Competition for scarce land resources has spurred rising investment in land. This competition can fuel conflict with existing users. Inevitably, bank group involvement in forestry and agriculture is not without risk, particularly given the fact we are operating in imperfect governance environments. But the total number of complaints received gives no explanation as to their validity."
--

Oxfam urges World Bank to freeze land investments
Reuters | 4 October 2012
By Lesley Wroughton
WASHINGTON (Reuters) - Global development group Oxfam on Wednesday called on the World Bank to suspend financing for large-scale land acquisitions to ensure that its practices do not encourage foreign land grabs in developing countries.
Oxfam urged Jim Yong Kim, the lender's new president, to announce a six-month moratorium on land investments by the bank at meetings of the International Monetary Fund and World Bank in Tokyo next week.
But senior bank officials said it would be a mistake to suspend the World Bank's involvement at a time when global food prices are rising and there is growing interest by foreign investors in buying farmland in Asia, Latin America and Africa.
The 2008-2009 global food price crisis prompted a scramble for land in parts of Asia, Africa and Latin America, and widespread fears of land grabbing. Madagascar's president was toppled in 2009 after he negotiated a deal with South Korea's Daewoo Logistics to lease half the island's arable land to grow food and ship it to Asia.
The World Bank has long argued that Africa needs more investments in agriculture that would not only help modernize farming practices but also create jobs and new markets for local farmers. The lender has boosted its investment in agriculture to $9.5 billion a year from $2.5 billion annually in 2008.
Oxfam said the World Bank was in a unique position as both a financier, through its private-sector lending arm the International Finance Corp, and adviser to developing countries to ensure land deals are transparent and not forcing local communities off land they have farmed for generations.
According to Oxfam more than 60 percent of investments in agricultural land by foreign investors between 2000 and 2010 were in developing countries with serious hunger problems.
"The bank can set an example to investors and government that could help put a stop to these human rights abuses and ensure that investors genuinely help boost development in some of the poorest communities," Jeremy Hobbs, Oxfam's executive director, said.
Juergen Voegele, director of the World Bank's Agriculture and Rural Development Department, said the bank could be more effective by remaining involved while helping governments address the problem.
"We do not believe that Oxfam's call for a moratorium on World Bank Group-related investments is an appropriate course of action at this point, particularly not at a time of rapidly rising and very volatile food prices," Voegele told Reuters.
"We certainly do not believe this will help reduce instances of abusive practices that are out there; we do know that, because it would clearly target the wrong stakeholders and the wrong audiences," he added. "We are the ones who are doing everything we can to improve these poor practices".
MORE TRANSPARENT DEALS
Oxfam said, however, a moratorium would give the World Bank time to "put its own house in order" and send a clear signal to governments and investors it would not tolerate land grabbing.
It said the World Bank should insist on more transparency in land deals to limit abuses, ensure communities are informed so they can accept or refuse projects; and make sure that communities' land rights are protected.
Many of the deals are government to government and there are questions whether investors pay fair prices for the land.
Voegele said over the past two years the World Bank had worked with foreign agencies and governments to draft voluntary guidelines on land investments.
"Just like Oxfam we are concerned these practices are not transparent and they are sometimes hurting poor farmers. Almost 90 percent of what we do is helping smallholders get access to markets and increase productivity," he added.
Contrary to reports that China was leading the rush for land in developing countries, Voegele said investors from the United States, Canada and Europe were also scooping up land abroad.
"Two or three years ago we found there was a lot more hype than actual action on the ground. Now that is changing a little bit, but at that time a very significant number of those deals were speculative deals -- an announcement but nothing happened," he added.
"Speculative land investment is something neither the Bank nor the IFC supports because it does not help anybody."
Atul Mehta, IFC director for global manufacturing, agribusiness and services, said a moratorium could dissuade responsible investors and lead to more widespread abuses.
"The people who approach us more often or not are some of the best players who want to do things right. The ones that are not in that category quickly find they are not able to meet our standards," said Mehta.
--