Small farmers losing rights due to large-scale land grabs
Published: 26 Oct 2012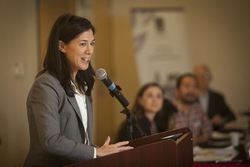 Wendy Wolford, the Polson Professor of Development Sociology, gives opening remarks Oct. 17 at the Second International Conference on Global Land Grabbing at Cornell. Wolford was a key organizer. (Photo: Jason Koski)
Cornell Chronicle | 23 October 2012
By Sarah Byrne
A growing worldwide land rush, especially in Latin America and Africa, is having a negative impact on the local and indigenous people, many of whom are poor farming families, said José Graziano da Silva, director-general of the U.N.'s Food and Agriculture Organization (FAO), via videoconference from the World Food Meetings in Rome Oct. 19.
His discussion was the keynote talk of the
Second International Conference on Global Land Grabbing Conference
that welcomed nearly 200 academics, development experts, policymakers and activists from 32 countries (see sidebar) to campus Oct. 17-19.
As enormous land investments are made by government-backed companies, national and international corporations, individuals and asset management funds, local famers lose rights, in many cases because they don't "own" their land in the Western sense of the word. Governments often do not recognize ownership, and even in regions where governments recognize the rights of local farmers, countries lack the means to protect ownership.
Da Silva emphasized the importance of land ownership to a person's identity, noting that land is tied to the "belonging of an individual to his community [and] his social and political identity." Because families can no longer produce their own food for lack of land, large-scale agriculture poses a threat to global food security, he said.
To mitigate this threat, da Silva said, principles for responsible agricultural investment are needed, which include measures designed to protect food security and local development. After a spike in food supplies in 2007-08, the FAO began trying to secure local supplies rather than rely on volatile foreign markets, da Silva noted.
Recently, after a debate involving representatives from 130 countries, the UN's Committee on World Food Security established guidelines designed to respect the rights of indigenous families.
To raise awareness about land grabbing and protect local peoples, da Silva suggested three strategies. First, information on large-scale land use must be made public, so that academics can research the issue. Second, as the presence of foreign companies increases in a country, we must be aware of the political implications. Last, organizations like the FOA must enable nations to exercise more control over their people's food security.
Many audience members questioned the ability of any organization to enforce food security guidelines. Da Silva said that it is the cooperative process of achieving these guidelines, more than their achievement, that is important. This process will be different for each country, as each has unique political issues and parties, he added.
The FAO is working with partners in the government and private sectors to establish food security, a goal that calls for more government regulation of large-scale agriculture. "It is a society," da Silva said, and not one group, "that decides to eradicate hunger."
The conference was organized by the Land Deals Politics Initiative and hosted by Cornell's Department of Development Sociology.
Sarah Byrne '15 is a student intern for the Cornell Chronicle.