Argentina seeks Arab agriculture investment
Published: 29 Oct 2012
Nuqudy | 29 October 2012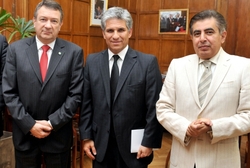 Argentina's Minister of Agriculture Norberto Yauhar (left), Governor of San Luis Claudio Poggi (centre), and the Ambassador of Saudi Arabia Turki M.A. Al Madi (right).
by Cherif Jendoubi
Argentinian Agriculture Minister Norberto Yauhar met last week with Saudi Ambassador Turki M.A. Al Madi to discuss investments that the Kingdom is considering in Argentina.
"The Ministry of Agriculture is capturing various business opportunities that allow us to increase sales of domestic products with high added value and attract investments from countries whose demand is complemented by our food supply," Yauhar said after the meeting.
The governor of San Luis, Claudio Poggi, also attended the meeting as some Saudi companies are interested in investing in agriculture in the area. Poggi stressed that, "At the request of Minister Norberto Yauhar, I participated in the meeting with the Saudi ambassador in Argentina because there are Arab companies that would be interested in investing in San Luis, in the agricultural area, which is very important for our province."
On Friday, the head of the agricultural portfolio organized a meeting with ambassadors and representatives of Saudi Arabia, Kuwait, the UAE, Palestine, Lebanon, Egypt, Libya, Tunisia, Algeria, Morocco, and the Arab League. Among the objectives of the meeting was to highlight the importance of strengthening relationships in agribusiness and promoting trade between Argentina and the region.
Argentine exports to Arab countries reached around $2.77 billion in the first half of 2012, an increase of 12.85% over the $2.46 billion registered during the same period last year. Total exports to the Arabs in 2011 amounted to $5.2 billion, representing 6.3% of Argentina's total exports. Agribusiness accounted for 93.4% of all exports to Arab countries, or $4.8 billion. Furthermore, the Arabs receive 10% of Argentina's total agricultural exports.
As for imports, Argentina imported $167.3 million from the Arab countries, representing 0.2% of total imports.