Farmers urge action against global 'land grab'
Published: 13 Oct 2010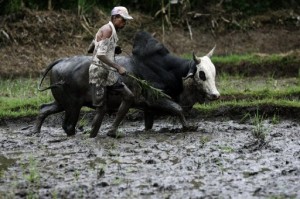 Agence France Presse | 13 October 2010 | Español
By Ella Ide (AFP)
ROME — Farmers from the developing world called on governments this week to curb a global land rush in which millions of hectares of their terrain are being taken over by foreign private investors.
"Generations in Africa have lived off family farming," Hortense Kinkodila, a farmers' representative from Congo Brazzaville, said on the sidelines of talks on the issue at the UN food agency FAO in Rome this week.
"We're really angry that people come and grab our land and take away traditions that have sustained us for years," she said.
Renaldo Chingore from Mozambique said: "What's been happening in Mozambique is a disaster for rural communities.
"International companies are kicking farmers off the land, and moving them to areas that are not fertile," he said.
"Land-grabbing has led to riots, as local peasants are no longer able to produce food for themselves and the community," he added.
Driven by recent food, energy and climate crises, investors from richer nations have been buying up vast tracts of land in poorer countries to meet demand for bio-fuels, crops and mining resources.
A World Bank report last month said there had been a dramatic increase of investor interest since 2008, with reported large-scale farmland deals amounting to 45 million hectares (111 million acres) in 2009 alone.
Land buyers come from countries like Britain, China, the Gulf states, Saudi Arabia and South Korea and half of the deals are done in Africa, with Ghana, Madagascar and Sudan among the most targeted states, officials said.
Activists at the UN World Food Security meeting said a "land-grab" was underway in the developing world that was driving up prices, forcing the eviction of local farmers and fuelling corruption.
But while the World Bank admitted there were significant risks for vulnerable populations in large-scale land purchases, the bank's private sector arm said it would continue to invest.
Analysts at the bank stressed agribusiness deals could help countries with underused land get access to technology, raise employment levels and create conditions for sustained development.
The report pointed to successful projects in Peru, where auctions of 235,000 hectares have brought in almost 36 million euros (50 million dollars) of investment over the last 15 years.
But experts on land deals slammed large-scale acquisitions as exploitative.
"Those in favour of land grabbing in poor countries often claim that it makes good resource of areas that otherwise lie empty and unused," said Ian Scoones, from the Institute for Development Studies at the University of Sussex.
"But this simply isn't true," he added.
"Nomads, shifting farmers, and small-holders have their livelihoods disrupted and it's going to be a long-haul process to try and find a way to secure the rights of local farmers and seek legal redress to common property," Scoones said.
Critics say investors have made deals in secret, evicted people from their land without proper compensation and failed to get projects off the ground or create the number of jobs promised.
"Often it is the speculatory deals which end up displacing peasants and disrupting the lives of locals, especially if the project then doesn't go ahead and no actual benefits are seen," said Scoones.
According to a Food and Agricultural Organisation (FAO) report, many such projects only create "a tiny fraction of the employment opportunities that farmland may offer under labour-intensive family farming."
To minimise the risks to smallholders, the FAO has proposed voluntary guidelines on responsible governance of land which it hopes will help in the fight against corruption and exploitation.
But critics are not convinced everyone will abide by the rules.
"Voluntary codes of conduct are all very well when you're working with the good guys, but not everyone is driven by a commitment to civic morality," said Scoones.
"So as well as the carrot, we need to use the stick", he said.