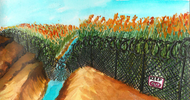 My Home, My Land is a graphic representation that dismantles the myths promoted by donor countries, development agencies, and corporations about the positive effects of foreign direct investments through large-scale land acquisitions.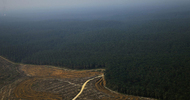 ¿Qué es tal invasión? ¿Qué cubre tantas y tantas hectáreas de esta tierra de enorme fertilidad? Ustedes mismos reconocerán por su morfología que son palmeras, pues sí, este bosque sin fin es un bosque de palma africana que las empresas multinacionales han convertido en una epidemia planetaria para su beneficio.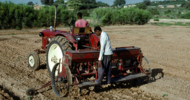 Os países do G-8 querem assumir a terra do continente africano, exportando suas tecnologias e ignorando qualquer conhecimento agroecológico.