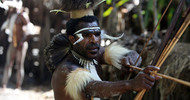 There's a saying in Indonesian palm oil industry: Sumatra is yesterday, Kalimantan is today, and Papua is tomorrow. Tomorrow might well have arrived. A new report sheds light on the industry's rapid expansion in Indonesia's easternmost region and the companies behind the plantation drive.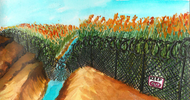 My Home, My Land is a graphic representation that dismantles the myths promoted by donor countries, development agencies, and corporations about the positive effects of foreign direct investments through large-scale land acquisitions.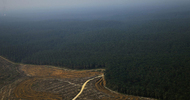 ¿Qué es tal invasión? ¿Qué cubre tantas y tantas hectáreas de esta tierra de enorme fertilidad? Ustedes mismos reconocerán por su morfología que son palmeras, pues sí, este bosque sin fin es un bosque de palma africana que las empresas multinacionales han convertido en una epidemia planetaria para su beneficio.