Singapore-based firm acquires 28.11% stake in AgriNurture
Published: 02 Jan 2012
Business World | 2 January 2011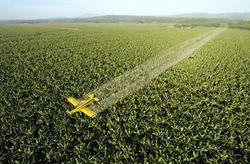 Plane spraying pesticides on a banana plantation in Mindanao, the Philippines.
BY LOUELLA D. DESIDERIO
A SINGAPORE-based firm has acquired a 28.11% stake in listed AgriNurture, Inc. (ANI) for $30.450 million.
In a disclosure to the Philippine Stock Exchange yesterday, ANI said that it executed an investment deal dated Dec. 29, 2011 with Black River Capital Partners Food Fund Holdings (Singapore), Pte. Ltd., (Black River), a wholly owned subsidiary of Black River Capital Partners Fund (Food) LP.
Black River Capital Partners Fund (Food) LP is a fund managed by the private equity arm of United States-based agribusiness and trading giant Cargill, Inc.
"Under the investment agreement, Black River shall acquire an aggregate of 125.486 common shares in the company for an aggregate amount of $30.450 million," ANI said in the disclosure.
ANI, a supplier of fresh and processed agricultural food produts, said the shares sold to Black River shall be equivalent to 28.11% of the outstanding capital stock of the firm.
Antonio L. Tiu, president and chief executive officer of ANI said in a telephone interview yesterday that Black River is the "first strategic foreign investor in ANI," noting that Singapore-based firm is agriculture-related.
"We've had foreign investors before but Black River has the biggest stake so far," he said.
He added that the proceeds of the share sale will be used to fund ANI's expansion plans.
"We will push through with the purchase of plantations in Mindanao for rice, corn, banana and vegetables; and for cold chain systems," he said.
He continued that despite raising funds from the investment of Black River, ANI is still looking to proceed with the issuance of five-year notes and planned follow-on offering this year.
"For the five-year notes we are looking at raising between P2 to 2.5 billion," he said.
Meanwhile, the firm is looking to raise more than P1 billion through the follow-on offering.
While the timing for the fund-raising activities has not been set, Mr. Tiu said that the issuance of the notes would take place prior to the share sale.
The funds raised, he added, will be used to support ANI's expansion plans.
Last month, ANI said that it was planning to spend P200 million to P250 million for the acquisition of three to four local food chains within the first quarter of 2012.
The firm also intends to spend $10 million on food-related businesses overseas.
Suspension of trading of ANI shares will be lifted today, the disclosure said.
ANI suspended trading of its shares Thursday as it moved to finalize its investment deal with Black River.