BBC Africa debate
Published: 20 Feb 2012
BBC | 20 February 2012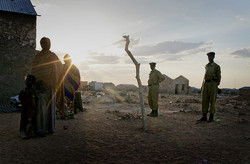 Join the conversation on twitter: #bbcafricadebate
Debate on the issue of international farmland deals in Africa - or Land grabbing as it's commonly known.
The debate took place in Freetown, Sierra Leone, on Friday 24th February 2012. Listen here: http://farmlandgrab.org/post/view/20093
Over the last couple of years, large-scale acquisitions of farmland in Africa, Latin America and Asia have made headlines across the world. According to a US-based think tank - the International Food Policy Research Institute, nearly $20bn to $30bn a year is being spent by rich countries on land in developing countries. The investors include some of the world's largest food, financial and car companies.
The issue described as "land grabbing" by its critics has been particularly contentious in sub-Saharan Africa because land there is considered central to identity, food security and livelihoods.
Ethiopia, South Sudan, Mozambique, Liberia, the DRC and Sierra Leone have all signed sizeable land deals with foreign investors. The host governments and investors say that these investments will lead to economic development; promising employment, infrastructure and social services.
However human rights groups argue that the main beneficiaries of "land grabs" are the foreign investors because most of them produce commodities for export (including food, biofuel and flowers for foreign markets). They argue that the land deals are not done transparently, hence creating a breeding ground for corruption. So is it a land grab or a development opportunity? Is land grabbing actually good for Africa?
Join the conversation on social media
Twitter – BBC Africa
use #bbcafricadebate to discuss this important issue
Google + BBC Africa
Facebook – BBC Africa