Chinese bid to buy Kimberley land for beef and sugar production
Published: 30 Apr 2012
ABC | 30 April 2012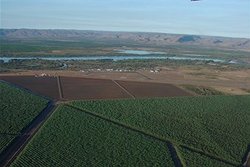 By Matt Brann
A Chinese investment group has reportedly lodged a bid to buy the entire 15,000 hectares of the Ord Expansion Project in the Kimberley region of Western Australia.
According to The Australian newspaper, the company, trading as Kimberley Agricultural Investments (KAI), is understood to be interested in developing a major sugar industry in the region, as well as a meatworks capable of processing 500,000 head of cattle a year.
The company is up against 13 other companies and individual farmers who have also submitted applications for land to the WA Government (which is spending $311 million on expanding the Ord irrigation scheme).
Shire president for Wyndham East Kimberley, John Moulden, says a decision on who gets the land has not been made, but a big company in the Ord would have its benefits.
"I think in the end it comes down to what represents the best value locally and for the government," he said.
"If it's judged finally that a large-scale foreign bid represented best value then I think it's a pretty strong argument.
"I guess you'd be measuring value principally in employment opportunities. I'd want to see opportunities for the locals and particularly the Miriuwung Gajerrong people were the best we could get.
"If there were local farmers who had an interest in getting a bit more land, it would be very disappointing if they weren't able to. It wouldn't be a good look at all.
"I think there's a great deal of attraction in getting more family operations into the region, but how realistic that is now, I'm not quite sure."
The director of the Ord Expansion Project, Peter Stubbs, would not confirm or deny whether Kimberley Agricultural Investments had lodged a bid for land in the Ord.
President of the Kimberley Pastoralists and Graziers Association, Jim Motter, says KAI's proposal to build a meatworks in the East Kimberley capable of processing 500,000 head of cattle a year would be "the greatest thing that's happened to the region in a long time", but questioned where the company would get the cattle from.
"Maybe between the Kimberley and the Northern Territory, maybe they will (get enough cattle), but I wouldn't hold my breath on getting half a million though. That's a lot of cattle."
The ABC understands Chinese investors have been making inquiries about nearby cattle stations in the Northern Territory, such as Legune and Bullo River.
Mr Motter says there are already a lot of cattle stations in the East Kimberley that are foreign owned and there could be benefits if Chinese companies want to invest in the northern cattle industry.
"If the overseas investors are investing to make a quick dollar then no (I don't support it), but if they're investing to build up an industry then yes (I would support it), because they do have the money to put improvements in," he said.
"At the same token, you've got to ask 'do we really want to sell all of the Kimberley?' It's a hard question."
A decision on who gets land in Ord Stage 2 is expected to be announced after July.