Macquarie moves in on agriculture
Published: 25 Jun 2012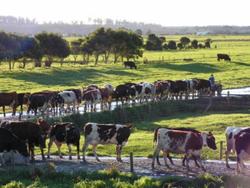 Financial News Network | June 25, 2012
Macquarie moves in on agriculture
Macquarie Group Limited looks to be moving in on more agricultural investments with the launch of a new fund to target dairy farms in Australia.
According to The Australian Financial Review the investment bank's latest fund is called Harris Dairies and a number of people have already been appointed as directors.
Macquarie is still to disclose how much it will target to raise for the fund but the report speculates it will be less than the $700 million Macquarie is looking to raise for its crop fund, Lawson Grains.
Macquarie Agricultural Funds Management owns and operates agricultural land on behalf of investors through both managed funds and direct mandates.
The bank's main agricultural fund holds more than 3.6 million hectares of land and more than $1.2 billion in investments and commitments.
Macquarie Group's full year net profit fell 24 per cent to $762 million in the year to March 31, 2012.