Interview with Ahmad bin Awang Ali of the Borneo Indigenous Peasant Movement
Published: 26 Jul 2012
GRAIN | 26 July 2012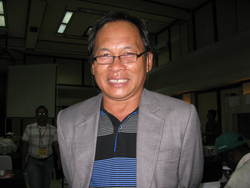 Ahmad bin Awang Ali of the Borneo Indigenous Peasant Movement.
Indigenous peoples in Sarawak, Malaysia are facing an escalation of land grabbing in their territories by national palm oil companies, backed by foreign corporations.
Listen to the interview
http://farmlandgrab.org/uploads/Sarawak.mp3
According to Ahmad bin Awang Ali of the Borneo Indigenous Peasant Movement (Sarawak) the land grabs have taken away the lands the local people use for farming and are destroying forests. The lands are typically given to the companies without consultation with the local communities who live on the lands, and without appropriate compensation.
The plantations have not generated employment opportunities for the locals either. Awang Ali says that the plantations pay very poorly, and mostly employ migrant labourers from Indonesia, the Philippines and Bangladesh under poor working conditions.
With over a hundred land conflict cases pending in the courts, Awang Ali says they have been forced to take more direct action to try and stop these land grabs. The local communities have staged several protests in recent months to try and draw attention to their situation.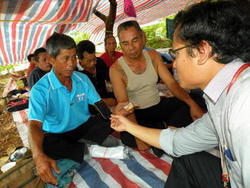 Villagers of Melikin and Keranji, Serawak set up tents at a car park in Petra Jaya, in May 2012, to protest against the encroachment of their lands by private companies developing palm oil plantations. They said around 700 hectares were taken away for palm oil plantations since 2010 in Melikin, and beginning early in 2012 in Keranji, affecting 40 villages.
Malaysian palm oil companies, such as Sime Darby, are now expanding outside of Asia into Africa. Awang Ali says he expects they will carry out the same kind of land grabs overseas. He warns the local people there not to be tricked by their smooth words and the pretext of development.
Ahmad bin Awang Ali can be contacted by email at panggau99@yahoo.com