Land grabbing in a post investment period and popular reaction in the Rufiji River Basin.
Published: 02 Aug 2012
Haki Ardhi | 2 August 2012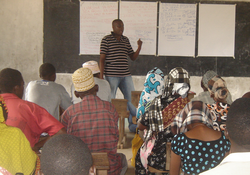 Participants listening to a Haki Ardhi facilitator during Land and village governance training in Rufiji District, Tanzania.
By HAKIARDHI
Study carried out by Dr. Abunuwasi Mwami of the Department of Sociology, University of Dar es Salaam and Dr.
Ng'wanza Kamata of the Department of Political Science, University of Dar es Salaam on behalf of HAKIARDHI