Paraguay: Attacks against press and land grabbing denounced
Published: 15 Aug 2012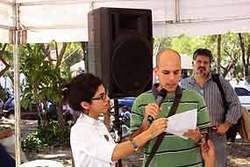 Prensa Latina | 15 Aug 2012
Paraguay: Attacks against press and land grabbing denounced
Asuncion, Aug 15 (Prensa Latina) -- Paraguay Resist Social Forum recorded in its first day of debates, denounces against government attacks on journalists, public and alternative media and land grabbing by multinational corporations. These are two of the many approaches discussed in 12 work tables attended by hundreds of representatives of social movements around the country, including workers, peasants, women, indigenous people and professionals, among others.
In the field of assaults on journalists opposed to the impeachment of President Fernando Lugo, highlighted the intervention of Public Television journalists on the verge of layoffs with the false argument of lacking of budget to pay salaries.
Alternative radio stations of cities in the different departments, among them Pilar, explained how they were forbidden to transmit any material convictions of what they called a coup to remove from office Lugo and it was to prevent equipment damage.
A workshop designed to analyze the problems of the land revealed that today, transnational companies are holding 13 million hectares of land and access to water of many rivers.
A work table with guests from several countries, especially Brazil, will meet today, when there is also a popular march through the streets of downtown Asuncion, as happened yesterday, to show rejection of coups.
The closing ceremmony would take place outside the facilities of the Public Television, in solidarity with its workers, and will also serve to deliver the findings of the Forum to Fernando Lugo in recognition to his character of constitutional president of the country.