MOFT Undersecretary discusses boosting food investments with Argentina
Published: 16 Sep 2012
WAM | 16 September 2012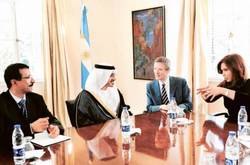 President Cristina Fernández de Kirchner of Argentina in talks with Shaikh Abdullah Bin Zayed Al Nahyan, the Foreign Minister of teh UAE, March 2012.
(WAM) - Abdullah Al Saleh, Undersecretary of the Ministry of Foreign Trade (MOFT), has discussed with a visiting Argentinean delegation ways of strengthening and developing joint UAE - Argentinean investment in the South American country's agricultural sector and removing barriers facing Emirati investors wishing to invest in the crucial sector.
The Argentinean delegation is headed by Mr. Gustavo Alberto Alvarex, Undersecretary of Political Coordination at the Argentine Ministry of Agriculture, Livestock and Fisheries.
During the meeting, Al Saleh underlined the importance of strengthening economic and trade relations between the UAE and the Argentina in all fields, calling for developing investments and joint projects between the two countries, especially in the food sector.
Al Saleh briefed the visiting delegation on the facilitations the UAE provides Argentinean companies and investors and the advanced regional and global economic and commercial standing the UAE enjoys.
The MOFT Undersecretary explained to the Argentinean delegation that the opportunities that are available for investors from Argentina are not only confined to the UAE, but rather include the entire neighboring region, which has a total population of around 300 million people, adding that Argentinean companies can take advantage of the UAE's highly advanced infrastructure, facilities and logistical capabilities in expanding their operations.
Al Saleh pointed out to the great degree of importance the UAE assigns to food oriented investments and industries in order to satisfy its population's growing food demands, adding that this is evident through the UAE's recurrent hosting of the largest international food fairs such as SIAL Middle East and Gulfood.
He further added that the establishment of partnerships between UAE and Argentinean investors in various fields will create immense opportunities for the establishment of joint projects, pointing out that the UAE seeks to have Argentina join the ranks of other world countries such as India, USA, Canada and Brazil in becoming a primary supplier of food to the country.
For his part, Mr. Alvarex said that this was his second visit to the UAE, and that he has noticed many achievements in all fields since the last time he was here, adding that the UAE holds an advanced global position in trade and economic development.
He also said that his country has a growing interest in increasing investments in the agricultural sector and raising food exports, adding that Argentina enjoys a competitive edge in its animal products exports, especially meat.
Total bilateral trade between the UAE and Argentina achieved a 40 percent growth from 2010 - 2011.
Ruben Eduardo Caro, the Ambassador of Argentina in the UAE was also present at the meeting.