BrasilAgro sells second farm for hefty profit
Published: 11 Oct 2012
Agrimoney.com | 11 October 2012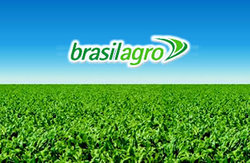 BrasilAgro says it made a 27% return on investment after selling a farm it purchased in 2010.
BrasilAgro highlighted the gains to be made from Brazilian farmland by selling a second farm from its 170,000-hectare portfolio for a large gain.
The Brazilian farm operator, which counts Argentine agriculture giant Cresud as its major shareholder, said it had sold its Horizontina farm in eastern Brazil for R$75.0m.
The sum is nearly twice what BrasilAgro paid for the farm in April 2010, and 40% above the value that Deloitte placed on the site at the end of that year.
The gain is not all profit, with the group having spent a considerable sum developing the 14,359-hectare site, which is valued in the company's books at R$46.0m, representing the acquisition price plus follow-on investment, with an allowance for depreciation.
Nonetheless, BrasilAgro claimed an internal rate of return of 27% from the farm, if profits from crop production, as well as capital gains, are included.
Land cleared
"The sale is part of the company's business strategy, which aims at capital gains from property sales, in addition to gains in agricultural production," the company said.
The deal follows the disposal of a smaller farm, in the state of Goias, a year ago, for more than twice total investment cost, including its acquisition in 2006.
Horizontina was part of BrasilAgro's portfolio of grain and oilseed producing farms, with the company also owning cattle and forestry assets further south, and sugar cane-focused operations in Brazil's centre west.
The farm had been developed from 2,000 hectares of arable land at acquisition to 7,500 hectares planned for the coming 2012-13 season.
BrasilAgro revealed last month it obtained environmental licenses to transform more of Horizontina into crop land.
It will continue to operate the farm until July.