Chinese near Moraitis deal
Published: 11 Oct 2012
Australian Financial Review | 11 October 2012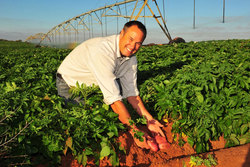 Maoraitis' farms
include 4,000 ha of banana plantations and a large-scale potato farm along the banks of the Murray River.
SUE MITCHELL, AFR
A CHINESE conglomerate with interests in construction, cars and cafes is set to emerge as a major supplier of fresh produce to Woolworths and Coles by acquiring a significant share of Australia's largest fruit and vegetable wholesaler, Moraitis Group.
The Hong Kong-listed Chevalier Group is in exclusive negotiations to buy part of the Moraitis family's 50 per cent stake and part of the 49 per cent held by private equity firm Catalyst Investment Managers, The Australian Financial Review reports.
Moraitis, which was founded by Melbourne Cup winner Nick Moraitis 55 years ago as a potato distribution business, supplies supermarkets and greengrocers and has interests in growing, processing and packing through joint ventures with potato, onion, banana and hydroponic tomato producers.
Moraitis director Paul Moraitis declined to comment on the negotiations yesterday, saying "nothing had been signed". But sources close to the deal said Moraitis and Catalyst had been in exclusive talks with Chevalier for "some time" and a syndicate of banks led by Commonwealth Bank had arranged financing for the deal, which was expected to value Moraitis at more than $200 million.
Moraitis's annual revenues have doubled over the past five years, reaching $517 million in the 12 months ended June 2011. Catalyst acquired its 49 per cent stake in 2006 and has been looking for a buyer since July last year. It is believed to have had discussions with other Chinese companies such as Bright Foods, which owns Manassen and Sunbeam, and state-owned COFCO, which owns Tully Sugar.